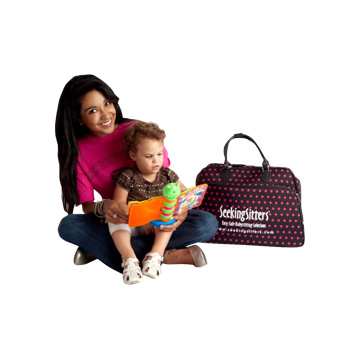 Babysitting
Last minute, full time, part time or one-time: we can help you solve any childcare delimma! The minute a request is sumitted, your personal SeekingSitters assistant begins working for you. Consider a REGULAR EVENT & we will book your events with the same sitter- even handle any necessary substitutes. Just relax and we will do all the work for you!
Sign Up
Pet Sitting
Our professional sitters can be trusted with your fur babies too! At a comparable cost to taking your pets to a kennel, you can have a safe, screened and experienced professional sitter come to the comfort of your home. Prevent any kennel anxiety or sicknesses that may arise at a kennel by keeping your pets at home. You will fall in love with the ease and safety of SeekingSitters!
Sign Up
Nanny Placement
We have the best Nannies! Our professional caretakers have gone through an FBI style background screening process and thorough screening of references to verifiy their extensive experience. We work around your exact needs and you are matched with a caretaker for your family in no time!
Sign Up
Tutoring in the comfort of your own home
Sitter tutor and study specialists can assist with any study need.
Contact your local owner to find out more.
Sign Up
Pricing: Simple as 1, 2, 3
Sign-up, select a service plan, and pay only for the services you use.
Activation fee for Full Access $59.99
SeekingSitters membership is an amazing value:
In-Depth screenings on all referred babysitters are always free to members! These background investigations and screening process is valued at $250.00 per sitter.
Once you activate your membership you will have unlimited access to your Online Account to Meet the Sitters through their online profiles, Request a Sitter and view your Online Calendar.
Your membership is valid at over 150 SeekingSitters locations.
Try before you buy: set up your account for Free to view Local Sitters!
Once you become a member, select a service plan based on how often you will use the service.
SeekingSitters has multiple service plans to choose from so you can choose what works best for you. Prices are unique to your location.
Pay-Per Request
Monthly Unlimited*
Annual Unlimited*
*Selecting monthly unlimited or annual unlimited allows you the ability to request last minute anytime with no additional fees. One time request members pay a booking fee that is applied to the job if the event is filled. No guarantees are made on last minute requests, but SeekingSitters regularly fills over 80% of last minute requests.
Signup For Free to View Local Pricing
As an active member, simply pay the local area babysitter fees for services only as you need it.
Charges are automatically calculated and billed to your credit card.
Full Time
One Time
Reocurring Event
Group Events
Signup For Free to View Local Pricing
FAQ
Will I get the same sitter every time?
SeekingSitters always works to match your request with the same sitter or sitters based on your preferences.
Schedule a regular event to garantee the same sitter on an ongoing basis.
How do I pay the sitter?
We make the process very simple for you. With convenient online payment processing there is no more running to the ATM during the late night. You can even look up past invoices or tip the sitters on your credit card if you like.
Please note that all transactions are processed through SeekingSitters online payment processing vendor, OBT Online and your credit card statement will reflect OBT (Online Business Transactions).A detailed invoice will be sent to you for use for tax purposes.
What are the experience requirements for the sitter?
At SeekingSitters, we only refer the most responsible, qualified and trustworthy sitters as our Babysitting Team. Our Contract Professional Sitters are at least 18 years old and the average age is 25. Each sitters has extensive experience working with kids and must have current CPR and First Aid Certifications.
SeekingSitters S.T.Y.L.E. is the basis of every babysitting job. Safety is our number one priority and we make sure all of our sitters can handle any emergency situation. Our sitters arrive at your home with a backpack packed full of great, fun activities for your kids to do and they actively engage with the children during the entire time they are on a job. Our sitters don't yack or text on their cell phones. They arrive at your home looking professional and ready to work. Most importantly, when you arrive home you will come back to your house looking the same or better as when you left.
Can I meet the sitter in advance?
One of the best features about using our service is that we do all of the leg work for you when it comes to finding a qualified sitter. Not only do we thoroughly screen and background check each of our sitter applicants, but we personally interview the sitters. We know that those sitters are going to be in our house with our children at some point, as well yours.
Keep in mind that we always listen to our members and greatly value your feedback. If you ever feel like you do not have a positive match with your sitter, all you have to do is call your local office.
Can sitters drive or do extra house work?
Some of the sitters are comfortable driving your children but that would definitely be something to directly negotiate with your sitter.
As far as doing extra household chores, our sitters' primary focus is childcare and spending the time with your kids. The house will definitely be picked up from any activities during the babysitting event and the kids will have a great time! If you have questions about what is required of our sitters, please contact your local SeekingSitters office.